LED light bulb holders Halogen Light Bulb Lamp Socket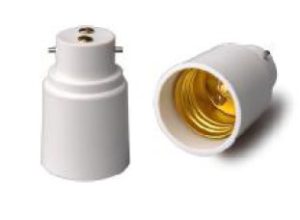 B22 Socket to E27 LED Light Holders Adaptor. Convert the B22 type bulb fittings to accept E27 extra low voltage screw in bulbs.
For use with "Extra Low" Voltage only
THIS ADAPTOR IS NOT NZ ELECTRICALLY APPROVED FOR "LOW" VOLTAGE (AND ABOVE) USE AND/OR CONNECTION AND MUST NOT BE USED FOR THAT PURPOSE.
"LOW" VOLTAGE: AC exceeding 50v but not exceeding 1000v.  DC Exceeding 120v ripple free but not exceeding 1500v.
B22 to E27 LED Light Holders are made of metal and heat resistant PBT plastic (polybutylene terephthalate, melting point 223°C, plasticity at 125 °C). Some items utilise ceramics for certain parts. All items below meet European electrical regulations and have CE certification.
B22 to E27 Lamp Holder LED Light Holders Screw Socket Converter Resistant No Fire Hazard, Fixture Replacement LED Lamp Screw Base Halogen Bulb Holder Converter Light Bulb Base Lamp Socket Adapter.
This LED Light Holders B22 to E27 Screw Socket Adapter allows you to use a Edison Screw Light Bulb in a Bayonet Lamp Socket. Bayonet Cap (BC) [B22] male to Edison Screw (ES) [E27] Female B22 to E27 adaptor dimensions: 62mm (high) x 36mm (wide) /1.42inch x 2.36inch (Max. D x H),22mm Bayonet to 27mm Edison Screw B22 to E27 Lamp Adapter Converter Suitable for all voltage, halogen LED, CFL bulbs,etc.
Easy installtion No need tools to install,screwing into existing socket,extend your current E27 screw mount / fixture.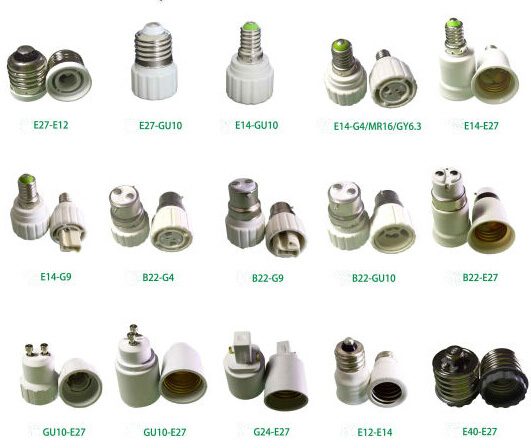 Nippon Holder is transparent lampshade adopts imported polycarbonate injection molded, high strength, good transparency, LED is a light emitting diode (LED) as the light source of the light-emitting body. The light-emitting diode was invented in the 1960s, in the ensuing decades, its basic use as an indicator of the tape recorders and other electronic devices.